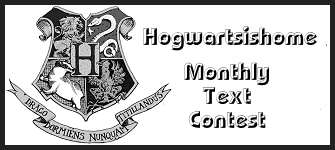 Activity: August Text Contest - Soundtrack!!

Points: 1st/2nd/3rd/Participation Only -- 50/40/30/10 points & 20/15/10/5 knuts, 2 POINTS FOR VOTING!

Details:
Character soundtrack: Harry Potter.

List 5 songs that remind you of Harry Potter (the character, not the series).


Entry A:
Holding Out for a Hero-Bonnie Tyler
"He's gotta be strong, and he's gotta be fast
And he's gotta be fresh from the fight."

Blue Eyes- Cary Brothers
"Wish enough, wise man'll tell you a lie..."

Hail to the Geek- Deaf Pedestrians
"I play dungeons and dragons.
I got a 13th level halfling fighter thief."

I Ran - Flock of Seagulls
"With auburn hair and tawny eyes...
I ran so far away, couldn't get away."

Nobody Likes Me, Everybody Hates Me. 'Guess I'll go eat worms!- Kids Song
... Yup!

Entry B:
Harry Potter: Something Worth Fighting For
1.The Middle-Jimmy Eat World
Hey, Don't write yourself off yet.
It's only in your head you feel left out,
Or looked down on.

2.Minority-Green Day
stepped out of the line
like a sheep runs from the herd
marching out of time
to my own beat now

3.Starving Your Friends-Envy On The Coast
And I feel terribly small
When my head works too hard
When you think with your chest
There's not a thing that you don't see

4.Lgfuad-Motion City Soundtrack
Let's get fucked up and die
For the last time with feeling
we'll try not to smile
As we cover our heads and drink heavily into the nights

5.I'm No Superman-Laslo Bane
Well I know what I've been told
Gotta break free to break the mold
But I can't do this all on my own

Entry C:
1. Panic At the Disco - That Green Gentleman
Things have changed for me, and that's okay
I feel the same, I'm on my way

2. Living End - Waiting for the Silence
I hate to break it to you
But I'm obviously not who you want me to be

3. Red Hot Chili Peppers - The Righteous & The Wicked
Yes I think we're f*cked
But I can't rest in war

4. Old 97's - Old Familiar Steam
And the point of all this living,
Is the dying still to come.

5. Lenny Kravitz - Fly Away
I'd fly above the trees
Over the seas in all degrees

Entry D:
1. Dance Music - The Mountain Goats
"There's only one place where this road ever ends up.
And I don't want to die alone."

2. 86 TV's - I Am Kloot
"I'd love to say I'd like to thank you all,
But I have not the gaul, the wisdom or the guile."

3. Gin & Milk - Dirty Pretty Things
"No one gives two f***s about the values I would kill for
Give me something to die for."

4. Mis-Shapes - Pulp
"We won't use guns, we won't use bombs,
We'll use the one thing we've got more of - that's our minds."

5. Everybody Cares, Everybody Understands - Elliott Smith
"Yes, everybody cares about you
Yeah, and whether or not you want them to."

Entry E:
1. "Gold Lion" - Yeah Yeah Yeahs
Gold lion's gonna tell me where the light is...

2. "Stand My Ground" - Within Temptation
All I know for sure is I'm trying
I will always stand my ground

3. "Across the Universe" - The Beatles
Limitless undying love which shines around me like a million suns
It calls me on and on across the universe

4. "Green Eyes" - Coldplay
The green eyes,
yeah, the spotlight shines upon you...

5. "Apocalypse Please" - Muse
It's time we saw a miracle
Come on, it's time for something biblical

Entry F:
Harry Potter's Soundtrack

1. All these things that I've done - The Killers
While everyone's lost, the battle is won
With all these things that I've done

2. Still Here - Natasha Bedingfield
I will never forget how you touched my life, you made me feel like I belong
You live on, you're still here with me all the time

3. What You Believe In - Take That
Tell me the word and I'll shout it out, for what is a voice when in doubt?
The world has changed, the world will change

4. Valerie - The Zutons
'Cos since I've come on home, well my body's been a mess
And I miss your ginger hair and the way you like to dress

5. One of the Brightest Stars - James Blunt
One day your story will be told, one of the lucky ones who's made his name
One day they'll make you glorious, beneath the lights of your deserved fame

Entry G:
1. Blink 182 - Story of a Lonely Guy
I'm always nervous on, days like this like the prom.
I get too scared to move, cause i'm a fuckin' boy

2. Ben Folds Five - Raindrops Keep Fallin' On My Head (orig. Burt Bacharach)
But there's one thing I know -
The blues they send to meet me won't defeat me

3. The Arcade Fire - Wake Up
With my lightnin' bolts a glowin', I can see where I am goin' to be
When the reaper he reaches and touches my hand

4. Badly Drawn Boy - Something to Talk About
I've been dreaming of the things I learnt
About a boy who's leaving nothing else to chance again

5. Home Grown - You're Not Alone
Believe me you're not alone; I've been there before.
Just where you are and not quite so sure that I've done the right thing.

Entry H:
1. "My Hero" by the Foo Fighters
2. "Be Prepared" (Scar's Song) from the Lion King Soundtrack
3. "Savior" by Red Hot Chili Peppers
4. "I Will Survive" by Gloria Gaynor
5. "Carry That Weight" by the Beatles

Entry I:
1. Meant To Live - Switchfoot
2. 99 Problems - Jay Z
3. New Soul - Yael Naim
4. Boss Of Me - They Might Be Giants
5. Always Be My Baby - Mariah Carey

Entry J:
1. One- Three Dog Night: Remus Lupin

2. Chemicals React- Aly&AJ: Ron and Hermione's relationship through the years

3. Numb-Linkin Park: Draco Malfoy

4. Disarm-Smashing Pumpkins: Harry Potter

5. I'll Be-Edward McCain: James Potter, about his feeling for Lily Evans


Entry K:
1. Messenger Bird's Song by Bright Eyes: but I always returned, with some new little song, some sad story to tell
2. Jesus Christ by Brand New: Well Jesus Christ I'm alone again, so what did you do those three days you were dead, cause this problems gonna last more then the weekend, well Jesus Christ I'm not afraid to die, I'm a little bit scared of what comes after
3. Overrated by Thriving Ivory: She swears this life is often overrated, she can't relate to a world that only knows her by her face
4. Angels On the Moon by Thriving Ivory: Don't tell me if I'm dying, cause I don't want to know...don't wake me cause I'm dreaming of angels on the moon, where everyone you know never leaves too soon
5. Viva la Vida by Coldplay: Oh, who would ever want to be king?

Entry L:
1. Superman - Five for Fighting.
2. Confusion and Frustration in Modern Times - Sum 41.
3. Help - The Beatles.
4. Through The Glass - Stoned Sour. (When he's looking through the Mirror of Erised)
5. Nightmare - Mest.

Entry M:
1. Go The Distance - Michael Bolton "Down an unknown road to embrace my fate"
2. Hero - Mariah Carey "If you search within yourself and the emptiness you felt will disappear"
3. Complicated - Avril Lavigne "Why do you have to go and make things so complicated?"
4. Abracadabra - Steve Miller "I see magic in your eyes I hear the magic in your sighs"
5. Youkoso Magical School He - Masami Suzuki (Akazukin ChaCha theme

Entry N:
1. Disney's Aladdin - A Whole New World
A whole new world
A dazzling place I never knew

2. The Pipettes - School Uniform
I love a boy in school uniform!

3. Chiaki Ishikawa - UNINSTALL
I have no choice but to pretend that
I am a warrior who knows no fear.

4. Pink Floyd - Learning to Fly
A fatal attraction holding me fast, how
Can I escape this irresistible grasp?

5. Matthew Good Band - Hello Time Bomb
Are you ready to go off?

Entry O:
1.Scars by Papa Roach
And my scars remind me that the past is real
I tear my heart open just to feel

2. Hero by Mariah Carey
There's a hero if you look inside your heart.
You don't have to be afraid of what you are.

3. Green Eyes by Helen O'Connell
Your green eyes with their soft lights,
Your eyes that promise sweet nights

4. Take A Stand by Ezadora
Take a stand!
Stand your ground
Don't let the world push you around!

5. Happy-Endings by The All American Rejects
Happy endings
Just what did you do, If you're a dream then come true

Entry P:
1. "Boulevard of Broken Dreams" by Green Day
2. "Our Lips are Sealed" by The Go-Gos
3. "Dream of Mirrors" by Iron Maiden
4. "The Voice" by The Moody Blues
5. "Bigger Than Me" by 3 Doors Down





*DO NOT, and I repeat, DO NOT vote for yourself. That is lame and I will know, and out you for the self-voter you are. Remember, two points for voting.