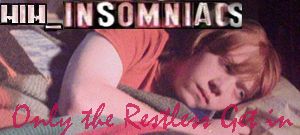 INSOMNIACS IS RE-OPENING TONIGHT!!!
Come one and all to the place where no one sleeps...
hih_insomniacs
This is a community in which all who can't sleep can participate in various activities...
Tonight is what I consider the re-grand opening to the community...and here are things to aspect!!!

ACTIVITIES STARTING TONIGHT AT MIDNIGHT U.S. EASTERN TIME:

SCAVENGER HUNTS!!!
DEBATE!!!
GRAPHIC CONTEST!!!
CONVERSATIONS!!!
AND CONSIDERATION FOR WHO IS THE TOP INSOMNIAC FOR NOVEMBER!

Also you can post about new communities, videos, random topics, promote anything here at hih, and promote general fun!!!

All this and more awaits...think about it points/friendships/ and hardy fun!!!
Join HERE now before the event happens!!!