Since the IDs were so popular, I thought that I would open up requests again. :) I've got Christmas things--meaning I'll be out and away from the computer (my friends are demanding an intervention XD)--so you will get them... around the 26th? I hope that's okay.

I've currently got a project going, and I'm up to my neck in details about that (
salemacademy). So. I can only make eight IDs, two IDs per House. Again, first come, first serve. Remember, these are free. :D Just post first to claim, and then you can go back and make your doll.

For dolls, Simply go to eLouai. Link me the saved doll, and list your name, your House, and activities.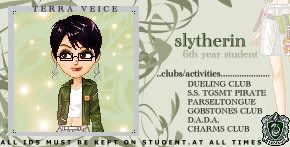 Merry Christmas!

-Terra, Slytherin (also under account name
terrveice



[edited to say:]

Oh. Lord.

I nearly forgot about this AGAIN. Last time I was making IDs, Hufflepuff's
coaltrain_613 found a website with guy dolls.

So GUYS!!! MAKE YOUR DOLLS! I'll make SIX more guy IDs, no House limits.