Our dearest and beloved Slytherins,

We bring you a gift for the Holiday season, to show our undying love for the House of the Snakes. Enjoy!



It was a cold and windy day when the Gryffindors met in their common room to discuss a rising issue among houses.

"We really can't stand for this, you know!" cried one of the fourth-years. "Those snarky Slytherins are always finding ways to grate on our nerves. Why just last week, one turned my pet toad into a green balloon! Can't we do anything about it?"

There was a period of whispering and grumbles, until one of the seventh-years piped in. "Well legally... no. But you know, there hasn't been any really good pranking since Gred and Forge left... maybe we could have some fun with this situation."

A chorus of voices rang out in yes's, and the matter was settled. It was time for some good old-fashioned Gryffindor fun.



~*~*~*~*~*~*~*~



"We have this all planned out then?" the prefect asked. "It's settled?"

"Yes. 'Unit One' will take care of the password, 'Unit Two' will grab the clothes, and 'Unit Three' is making the badges right now."

"Good. We have about 5 hours to get this all started and ended. At midnight we go. We're ready?"

"Completely."

"Good."



~*~*~*~*~*~*~*~



Unit One was on its way to the Slytherin common room. They hadn't quite found the password... no, that was coming much later. Right now, they were on the lookout for one Draco Malfoy, and were quite determined to find him.

"If we're going to force anyone to hand the password over, it's got to be him. He's so vain about his looks; with these magic markers, it really should be no problem!"

They stopped in the corridor, and listened for the sound of approaching footsteps. It was already half past midnight, so they couldn't take chances... if he wasn't coming, they had to know before the rest of the plan was put in motion.

"He should be here, you know... we didn't have Bunny track his movements for nothing!"

Luckily, they heard the sound of expensive leather shoes clacking down the hallway. Knowing no one but a Malfoy would be arrogant enough to wear £500 leather shoes coming from a class like potions, they jumped out and intercepted him in the hallway, catching him with a binding curse and throwing him under an invisibility cloak.

"This should be fun," one said, as they made their way back to the Gryffindor common room.



~*~*~*~*~*~*~*~



Unit Three was having absolutely no problems with the badges. In fact, they were sitting around waiting. And waiting. And waiting.

"Having Hermione around sometimes has its flaws, you know. If she hadn't finished those badges ages ago, we'd still have something to do."

"I have a plan... let's rush them over to Unit One, and see if they need help in the process. I always wanted to put a few touches on Malfoy's makeup!"

"No, no, guys," the prefect piped in. "Let's not get in the way. We need to stay here incase something goes wrong."


~*~*~*~*~*~*~*~



Unit One was upstairs in the boys dormitory, since the girls' side had its alarm issues. They were trying to force the password out of Malfoy with a few touches of magic marker to the face, and some red and gold hair dye.

"Well, Malfoy... your makeup is coming along well. Sure you don't want to tell us? This stuff won't wash off for a good 10 days; the sooner you tell us, the less we draw."

"You filthy, scummy -"

"Oh you know, I really wouldn't talk like that," one of the Gryffindor third-years said, while adding a Gryffindor touch to his robes. "We haven't started the face paint yet... but it won't be so hard."

"Oh please don't! I just finished waxing..."

"Then tell us, what's the password? Or would you like a new set of red and gold freckles to match your hair?"

"It's 'Knoxgrass' OK? Can I go?"

"Well no, little snakey. You're coming with us to make sure it works out. By the way, take a good look in the mirror, dollface. The colors turned out nice!"






~*~*~*~*~*~*~*~



As Unit One made its way to the Slytherin common room yet again, Unit Two was running a little late.

"Come on guys, we have to meet Unit One in ten minutes! What in blue blazes are you DOING???"

"We're TRYING to memorize the last spell! You wouldn't want the writing to wear off midday, would you?"

"Well no, but can't you do that on the way?! Let's go!"

They ran out of the Room of Requirement quickly, careful not to make any loud noises, and rushed to the Slytherin hallway. They beat Unit One by a few minutes, but neither unit was late.

"Got the password?"

"Yes, it's 'Knoxgrass.'"

No sooner had the word slipped out of the sixth-year's mouth, when a groaning noise was heard, and the walls in the corridor began to move.

"Hrm, Malfoy wasn't lying! He really must cherish his face. Leave him in the bind, and give him a silencing charm. Cloak yourselves with some sort of quieting charm also, we don't want to be heard by anyone but ourselves. Oh, and someone cloak Neville! I don't think he's quite got the hand of that charm yet."

The Gryffindors snuck quietly into the common room, careful not to wake the sleeping snakes.

"Too bad we can't draw on them too; that'd be a hoot, wouldn't it?"

"Shh. Grab all the clothes, and do your spells, quickly. We haven't much time!"

One by one, the Gryffindors began grabbing t-shirts out of Slytherin drawers and suitcases and casting spells. Their time was running out though, so before the clock could strike five, they grabbed the remaining t-shirts and made a run for it. They were scarcely out of the common room when they heard shouts from beyond the walls, and an exclamation of, "My CLOTHES!!!"

Too bad they don't sell these types of t-shirts anywhere, eh?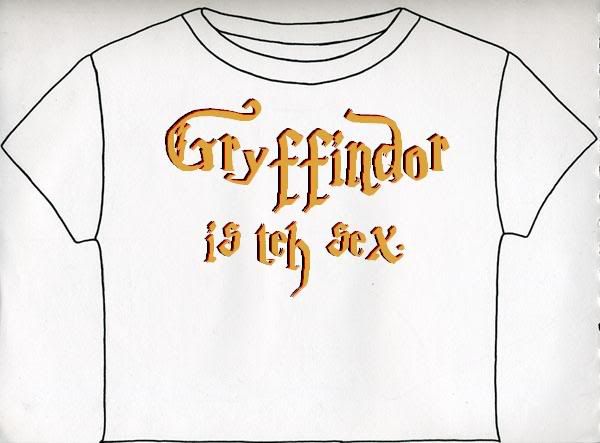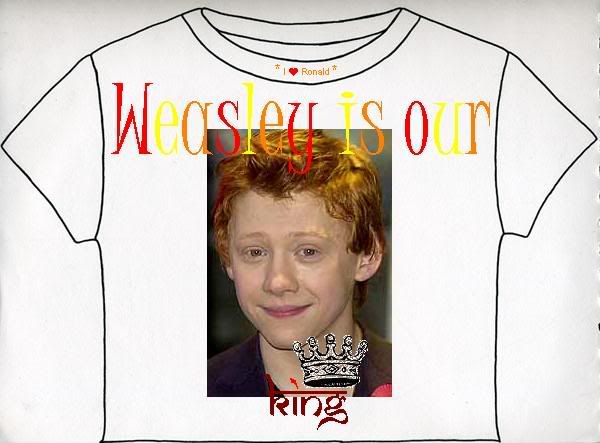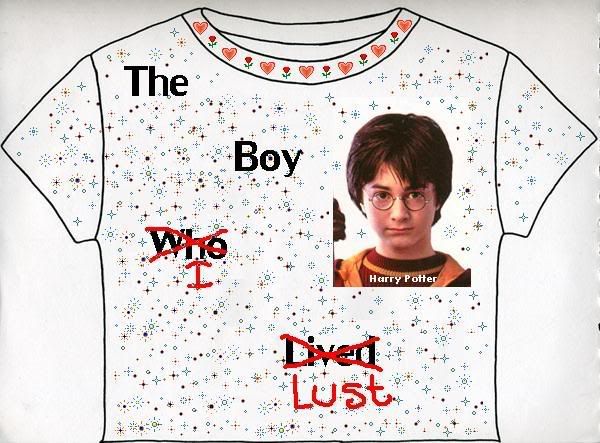 ~*~*~*~*~*~*~*~



Unit One and Unit Two were in the Gryffindor common room by half past five, and were laughing and giggling on their beds when Unit Three walked in with a box full of badges.

"We were going to come find you since we had nothing better to do, but our prefect held us back. She said we shouldn't go out, incase there was trouble, because Gryffindor needed an alibi. We did take the liberty of asking Sir Cadogan to watch guard over the Slytherin corridor for us while we were out and about before breakfast; they should have problems getting him away! Sweet guy, really. Lavender gave him some smooth talking to make him move, didn't you?"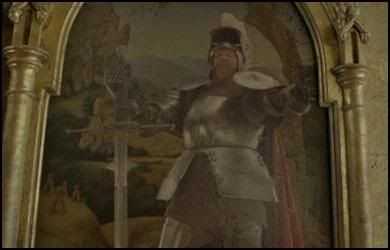 "Bloody brilliant! That's why I love this house!"

"Yeah, well, we had nothing else to do, and felt like helping out. Anyway, here's the badges! Put them on, and let's go see what those Slytherins look like in their new t-shirts! I hope those spells didn't wear off yet..."

"Oh no, they're set for a good week or so. This should prove interesting."




Hope you don't mind! It's all in good sport, really.

Like our badges? ;-)

♥

The Gryffindors