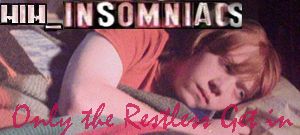 HIH_INSOMNIACS IS UP AND RUNNING AND THERE WILL BE WEEKLY CONVERSATIONS ABOUT CERTAIN TOPICS TO BE DISCUSS:
WEEKLY CONVERSATION: MOVIES here.

HOPE YOU ENJOY IT AND REMEMBER TO SIGN YOUR NAME/HOUSE WHEN RESPONDING!
THESE CONVERSATIONS IS FOR PARTICIPATION ONLY AND WILL BE CONSIDER FOR POINTS.

ALSO TIME HAS CHANGE FOR THE COMMUNITY ITS NOW OPEN- MIDNIGHT TILL 8 AM IN WHATEVER TIME ZONE YOU ARE IN!!!!