So you've heard about the Prophet. But the Prophet is NEWS, and everyone knows you need a little gossip now and again to keep the spice going. The
hihquibbler, your one stop spot for rumours of all HP and HiH varieties is releasing its first edition on September 13th!

This means you only have ONE MORE WEEK to get in any rumours! Each rumour will earn your house 3 points.

We are currently looking for:

Harry Potter Book rumours
Harry Potter Movie rumours (including rumours about actors)
Now Playing rumours
HiH Activity/Contest rumours
HiH Participant Rumours

A Harry Potter Book rumour could be: Ron is going to die according to (insert theory) linked here. A Harry Potter Book rumour is NOT: Ron loves Hermione. No matter how much he does. And no matter how much she loves him right back. Moving on.

Remember, deadline for the first edition is SEPTEMBER 13.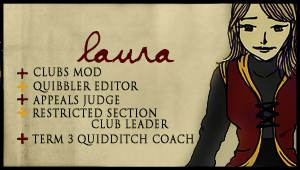 ♥
intotheheart and
weemumlessmngrl