Me and
aurora_borialis have decided we're going to have 5 days of Harry Potter FUNTIME starting TOMORROW. If you want to participate, drop a comment here! :D

Sunday: hop on one foot 10 times singing the school song. Cheating and using the book IS allowed!

Monday: Take a knitting needle/something pointy, or in my case, my HARRY POTTER WAND, and point it at household member and say STUPEFY! Watch said reactions and then walk away like nothing happened.

Tuesday: Read the first page of each book and type the first sentence of every book into your LJ.

Wednesday: Tell every single person you see that the book comes out in OMG 2 DAYS. And really say ohemgee.

Thursday: Annoy every single person you see and tell them why you love Harry Potter. Just GUSH about it to EVERYONE! Make a nametag and put it on your shirt that says "I'm a Harry Potter Fangirl, plzkthx" WEAR IT ALL DAY!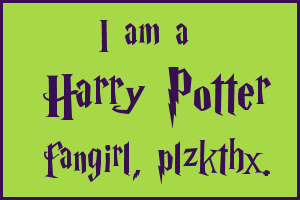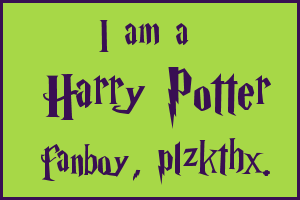 Friday: Bring your wand/knitting needle everywhere with you, stuck in your back pocket. If someone asks, tell them you're going back to Hogwarts the next day and need to prepared. Wear your nametag TO THE MIDNIGHT RELEASE PARTY. All day, use HP lingo. If you want something, say 'accio thing!' Etc. Also, excessive use of OMG will be necessary.

Have fun guys!

And CHANGE YOUR ICONS TO THE WONDERFUL NEW ONE I HAVE! IT WILL BE A SEA OF HP FANGIRLNESS. OMG.

ETA: For the icon, please credit
oohlala :D

Oh yes, and I must sign.

Karen AND Aurora//Hufflepuff FANGIRLS